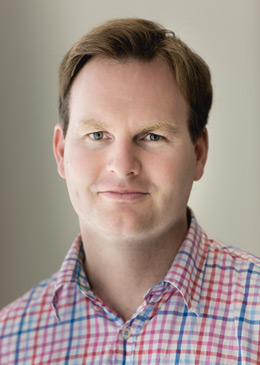 Dr Stephen Hutchinson is an orthopaedic surgeon specialising in disorders of the knee, hip, shoulder as well as orthopaedic trauma (fractured bones). He has a particular interest in hip and knee replacement surgery, knee ligament reconstruction and arthroscopic (keyhole) shoulder surgery.
Raised in Wollongong he first studied physiotherapy at the University of Sydney obtaining his bachelor's degree in 1999. Having worked as a physiotherapist he then returned to study medicine at the University of Sydney graduating in 2005. Subsequently he trained as an orthopaedic surgeon in Sydney and regional New South Wales. He has previously participated in orthopaedic aid work in the Pacific islands.
Dr Hutchinson is known for his approachable, professional manner. He prides himself on clearly explaining a patient's condition and communicating treatment options. He operates at Royal Hobart, Hobart private and Calvary Hospitals
…. In my early years as a doctor I met and later married a Tasmanian. Over many years we came to appreciate the lifestyle back in Hobart. We relocated with our young family in early 2015.